This page is part of a series on .
You can find all these posts by following the "
WordPress
Plugins" category.
Update Information:
I have submitted this plugin. You can see an update view of its appearance on
this post
, along with a temporary download link.
I'm working on a new WordPress plugin that allows you to easily add message blocks via a shortcode. It add several new buttons to the toolbar:

In order, from right to left, they are:
Nutshell (MediaWiki uses a template similar to this)
Attachments
Deletion (Again, an idea inspired by MediaWiki)
Part of a Series
Mentions
Warning
Important
Notice
Error
Caution
Archive
Support
The plugin provides the first line of these shortcodes; you support the rest:
This article in a nutshell:
This page describes the new WordPress plugin I'm working on.
Downloads:
When it is finished, you can download it from a message block like this one.
This page has been marked for deletion.
I may delete this page once the plugin gets in the WordPress plugin repository.
Warning!
This plugin is still in development. Do not use on production sites.
Important!
I don't know if I like red for "Important". Your feedback is welcome.
Notice!
Here is something you should notice.
Error!
You can use this shortcode to point out common places where people make mistakes? (If you are doing a tutorial, maybe?)
Caution!
This plugin is still in beta, and should only be used on development sites.
This page has been archived.
Much of the information on this page is either deprecated or obsolete. It is being maintained solely for historical reference.
On the back end, it looks like this:

The last icon provides a "Support" shortcode. It doesn't specify the title, but rather creates a shortcode that allows you to enter it:

The title goes between the quotation marks, and the lower message goes between the shortcodes. Here's an example:
I'll write a longer tutorial eventually.
Actually, I'd like for that icon to create a popup, which asks you to input the title, and then sends the whole thing to WordPress. If I can get that to work, I may add it to the other shortcodes, and I will definitely add it to my MLA Citations plugin.
Update Information:
Actually, I didn't like adding that many buttons to the editor, so I did it as a dropdown menu. You still get the pretty icons, though: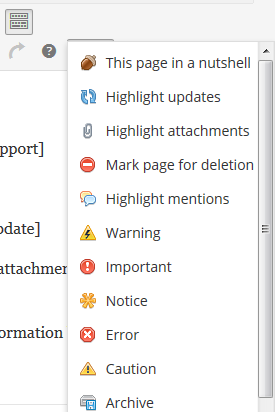 And that "This page is part of a series on ."—I fixed that.
Support This Site
I don't run ads on this site, so if you found this post useful or enjoyable, please support this site by sharing this post on your favorite social media by using the buttons above. If you would like to contribute to the server costs, you can also contribute via PayPal at paypal.me/kjodle. I appreciate your support.