This page is part of a series on useful WordPress plugins.
In this series, I'm reviewing WordPress plugins that I use on a regular or semi-regular basis. Some are go-to plugins that I install on every site, while others I grab whenever I need to accomplish a certain goal.
These posts will be tagged "useful WordPress plugins". To follow along, you can read the tag archive, or follow the tag feed.
As always, your comments, thoughts, and questions are welcome.
One of the great things about WordPress is that it is so easily extensible my means of plugins. Need to add a contact form, but don't know how to code one? Grab a contact form plugin. Need to add some advertising to your site, but your theme doesn't offer that option? Grab a plugin.
In fact, there are often several plugins, all coded differently, that offer the same functionality, but with different options. You may need to try out several before you find one that offers the options you want with easy to use settings.
Unfortunately, WordPress's built-in plugin reviews are not always useful. This is no fault of WordPress, but of human nature. People who like the plugin tend to rate it a five, people who can't get it to work correctly on their site tend to rate it a one, and there is precious little in between: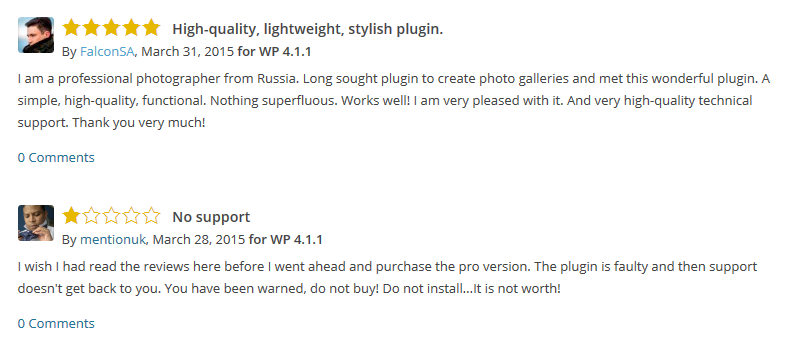 As is often the case, it is the middle reviews—the twos, the threes, and the fours—aht give the most information, because they mention both good and bad points. Detailed descriptions of what works and what should work better are few and far between. I'm guilty here, as well. I always try to remember to rate plugins, but am often in a hurry and so my comments tend to be brief.
My goal here is to rectify that by discussing some WordPress plugins that I used on a regular or semi-regular basis. I currently operate eight WordPress sites (three personal, three business, and two a bit of both); in the past, I've had upwards of fifteen running for clients. Some plugins are my go-to plugins: I use them on every single WordPress site I manage. Some plugins are function-specific: when I need to accomplish a particular task, I grab that plugin. And some plugins are just because I find them useful, but non-essential—my d12 Message Blocks plugin comes to mind here.
You can easily identify these reviews (which I'll probably get out over the next several weeks) because they'll have this message block at the top:
If there's a plugin you think I should take a look at, please send me a message and tell me about it.
Support This Site
I don't run ads on this site, so if you found this post useful or enjoyable, please support this site by sharing this post on your favorite social media by using the buttons above. If you would like to contribute to the server costs, you can also contribute via PayPal at paypal.me/kjodle. I appreciate your support.