This page is part of a series on WordPress plugins.
Use this message block to group similar posts. You can even add html, so that you can include a link to the relevent
tag archive
or
category archive
.
I have just submitted a new plugin to the WordPress plugin repository. It allows you to quickly and easily add message blocks to highlight important information for your readers. It does so by way of two drop-down menus in the TinyMCE toolbar: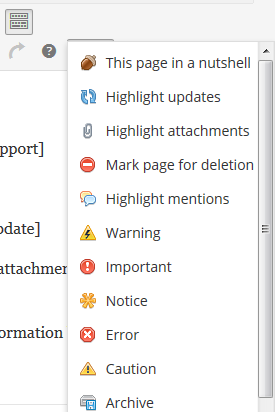 Since the best way to see how this works is to see the output, here are all the message blocks available.
The first type of message block supplies the title, but will prompt you for the content: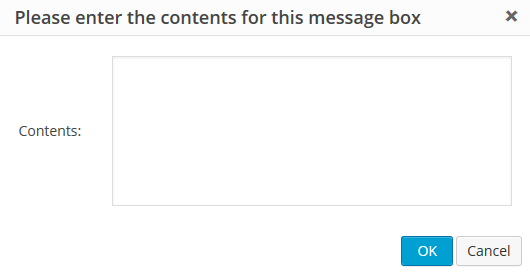 This article in a nutshell:
Use this message block to give a brief overview of what your page is about.
This message block was inspired by the nutshell template used on MediaWiki.
Update Information:
Use this message block to highlight any updates or changes to your page.
Both this template and the one below it are what inspired me to create this plugin. I find them highly useful on tutorial pages.
Downloads:
Use this message block to highlight any files that your readers can download.
This page has been marked for deletion.
Use this message block to inform your readers that you may delete this page in the future. Invite them to comment as to whether you should delete the page or not.
Again, this was inspired by the delete template on MediaWiki.
This page has been mentioned here:
Use this message block to highlight any places this page has been mentioned. You can also embed Tweets directly in the shortcode.
Warning!
Use this message block to provide a warning to your readers about possible graphic or NSFW content.
Important!
Use this message block to highlight important points your readers should remember or pay attention to.
Notice!
Use this message block to highlight points that readers are apt to forget.
Error!
Use this message block to indicate areas people typically make mistakes. This can be useful in tutorials, or any sort of how-to article, such as a recipe article.
Caution!
Use this message block to highlight areas where people should be cautious or especially careful.
This page has been archived.
Use this message block to indicate that a page has obsolete, deprecated, or out of date information, but that it is being maintained for historical purposes.
The second type will prompt you for both a title and the contents of the message block: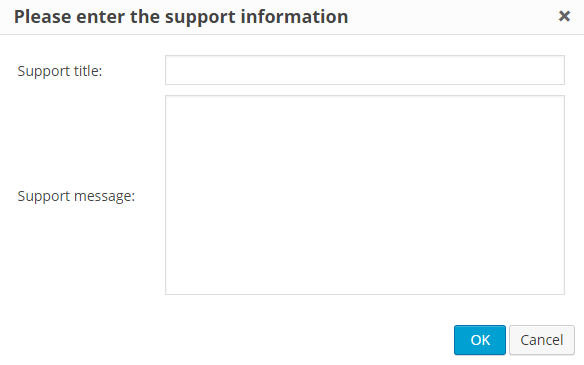 Need help? There are several ways to learn more…
Use this block to highlight ways that your readers can get more help with a given topic.
Contact Us!
Use this message block to provide different ways your readers can contact you. You can use html, so you can add lists, like this:
During office hours: M-F 8:00 am – 5:00 pm, Sat 8:00 am – Noon
By phone: 555.123.4567
You can also use our contact form for non-urgent issues.
Serving a Global Audience…
Use this message block to indicate how your efforts extend around the world.
We Are a Green Organization
Use this message block to indicate your environmental efforts, or actions your readers can take to help the environment.
Accept
Use this message box to indicate terms of use, terms of agreement, or just anything you think is okay.
Statistics
Use this message box to highlight any statistics about yourself or your site.
If you want to try this out before it is approved, you can download it here. Comments and suggestions are greatly appreciated.
History
If this looks familiar to you, you probably use the Graphene theme, which is where I got the original idea from. After that forum post, somebody else asked about it, and that led him to create a large number of message blocks. Unfortunately, his web site is no more, but trust me, he had some really great looking blocks.
I generally add shortcodes to my child themes just to automate a lot of things. But recently, the powers that be at WordPress decided that shortcodes belong only in plugins, not themes. The team behind Graphene then ported their shortcodes from the theme to a custom plugin, so I decided to do the same with all of my shortcodes. As it turns out, once you do that, you may as well add them to a menu button, so I did. (I also did that with my MLA Citations plugin.)
To all the great people behind Graphene, I say thanks for your help and ideas. I greatly appreciate it.
Support This Site
I don't run ads on this site, so if you found this post useful or enjoyable, please support this site by sharing this post on your favorite social media by using the buttons above. If you would like to contribute to the server costs, you can also contribute via PayPal at paypal.me/kjodle. I appreciate your support.